Skip to Content
Hanks Engraving Makes Your Home Unique!
For three generations, Hanks Engraving has been helping homeowners in the Worcester, MA area make their home elegant and unique with residential engravings. We can add embellishments to your address marker, give your lamp a strong natural stone post, and re-enforce your mailbox to give it a neat aesthetic. Whether you already have a design or you would like to work with our team, we can get your home looking even more beautiful with engravings on a natural stone outside, as well as inside your home. Call today and get a free estimate for the work, and don't worry about bringing your stone products to us because we can easily bring out state-of-the-art equipment to your home.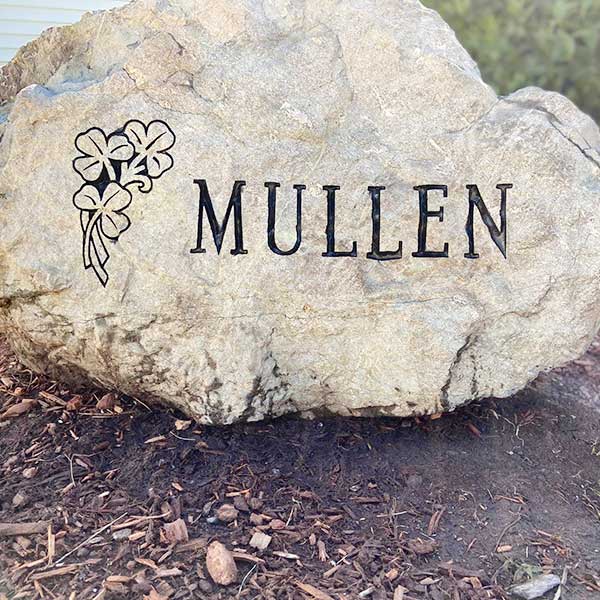 Residential Engraving Services
Numbers and words are a breeze for our residential engraving specialists. We work on boulders, slates, natural edge stone, and so much more. Make your address standout with intriguing and easy-to-read fonts. You can also add stone tattooing to incorporate fun designs such as paw prints or trees. Our team carries the skills and tools with them to complete your job quickly. You also don't need to worry about lugging your large natural stones to our offices as we can come to you with mobile residential engraving services. Most of these boulders would require the help of commercial-sized movers and could cost you an arm and a leg.
Interior Residential Engravings
We do more than help makes your address look good with residential engravings and stone tattooing. We can add these same designs to natural stone slats you can hang around your home with a fun or meaningful phrase for your guests to read. We can also put our skills to work on small boulders to decorate your office or bedside table. Let your imagination run wild as you work with our professional team of designers and specialists. Work together to create something truly special out of granite quartz and more. You can also check out our gallery of previous gifts we have created to get inspiration, or our team can help bring your vision to life.
Say It In Stone with Hanks Engraving